What is 
Project Level Automation

?
The systems we've developed are plug-ins that run within design platforms like AutoCAD, just as a
robot

can do the work of a worker our systems can help or even do the work a

designer

would do within those platforms. Here are some examples.
TASK AUTOMATION
With a single click, your plug-in performs tasks or steps of working in fractions of seconds and without errors. The designer becomes more agile and precise.
CONTROL OF LIBRARIES
Have complete control of your projects with a parameterized library of DWGs, RFAs and others. Keep a history of versions of each project.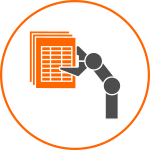 CALCULATIONS AND LISTINGS
Using EXCEL gives way to a plug-in that tracks information in the project, performs calculations, and generates lists such as quantitative and budget.
Meet our

Premium Development Package

!

CUSTOM MADE
Your team of designers will effectively participate in the process of creating the plug-in generating a solution that is totally focused on the workflow of your company.

1 YEAR WARRANTY
Your team will have 1 year to calmly test all plug-in features in a variety of situations. All BUGs and instabilities detected during the warranty will be promptly corrected by Arsenal.
NO ANNUITY OR MONTHLY
You pay only for development, there are no fees or use licenses, because the plug-in becomes a patrimony of your company.
VIDEO TUTORIAL
All the features and configurations of your plug-in are explained in a series of video tutorials, which will facilitate the training and the prompt research of your team in the use of the plug-in.

EXCLUSIVITY
The copyright of the plug-in will be yours, so only you decide to whom the plug-in will be distributed. Arsenal guarantees the exclusivity of your ideas!

TRAINING
Arsenal provides development courses for Autodesk APIs. You can also link one of these courses to the development of a plug-in which would give you opportunities to apply the knowledge you have acquired.